Boundary Waters Advisory Committee

This page was last updated: March 29, 2014
"For the Volunteer in Each of Us."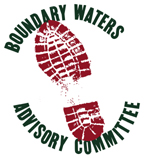 Legal disclaimer:

This Website is maintained by the Boundary Waters Advisory Committee and Outdoor Club. 3M does not participate in the operation of the Websites.  Any concerns about this Website should be referred to the site's Webmaster.

Please visit our sponsors

April 2014  News

Coming your way in April

  -   Pow Wow Trail status

  -  Upcoming Trips

Until then "Enjoy the Hike!"

                                               - Martin Kubik, editor

Photo gallery:

While the USFS officially reopened the Pow Wow in August 2012, what is still needed is a restoration plan for the Pow Wow Trail so that hikers can anticipate when they can safely enjoy the wilderness path as the land is healing.   This plan needs to include a vision for trail marking, timeline for clearing the trail, restoring the campsites, replacing the latrines and plan for funding trail clearing.   Brush will be growing profusely for tghe next 7-10 years until the canopy is re-established.  Good news:  BWAC survey crew that backpacked the Pow Wow Trail last Labor Day weeked spotted jackpine coming up along the trail.  It is hoped that Kurt Steele, the new district ranger at Tofte Ranger District will be open to developing goals, plan, and time line for restoration of Pow Wow Trail.  For photo essay of PWT and other trips see our website
www.bwac.smugmug.com
.  For more information about the Coalition to Bring Back the Pow Wow Trail contact Martin Kubik at wtrails2atyahoodotcom.