Boundary Waters Advisory Committee

This page was last updated: September 10, 2014
"For the Volunteer in Each of Us."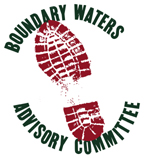 Legal disclaimer:

This Website is maintained by the Boundary Waters Advisory Committee and Outdoor Club. 3M does not participate in the operation of the Websites.  Any concerns about this Website should be referred to the site's Webmaster.

Please visit our sponsors

September 2014  News

-   NEW:

Lynn Schwartz named Volunteer of the Year 2013 at the North Country Trail Association meeting in Duluth

Lynn Schwartz was named BWAC Volunteer of the Year for her many efforts on behalf of the BWA Committee.  Lynn is a BOD member and club secretary.  Her major contribution to BWAC mission was in writing the federal Recreational Trail Program worth $46,000 in BWAC volunteer contributions and $23,000 in grant money.  Congressman Rick Nolan acknowledged Lynn's contributions during his speech at the North Country Trail Association Hiking Event in Duluth on August 23.   As a token acknowledgement of Lynn's many hours to the cause of trails, Lynn received a Petzl headlamp and rechargeable batteries to go with it.  Thank you Lynn! 
Read More>
Partnership for the Pow Wow Trail - $5 Rebate

BWA Committee has initiated Partnership for the Pow Wow Trail with the Stony River Cafe at Isabella, Minnesota.  What is  the partnership about?   BWAC will pay $5 rebate to anyone (exceptions apply - see rebate rules in the Rebate Form) who order a meal worth $10 or more at the Stony River Cafe.  By doing so we hope the people will visit the area, eat at the restaurant and hike on the Pow Wow Trail.  While the rebate may not be significant, it is a symbol of our committment to a small family run business affected by the Pagami Creek Fire and to the Pow Wow Trail.  Please consider a trip to Isabella's Stony River Cafe and Pow Wow Trail this fall. 
Press Release>
Rebate Form and Rules>
What's up with the Pow Wow Trail?

BWAC members have visited the Pow Wow Trail on several occassions this season.  Sadly USFS has not done any maintenance whatsoever, despite of receiving a RTP grant for clearing a seven miles section from Pose to Horseshoe Lake.  While there are segments of the trail where the tread is still visible, many sections are so overgrown by fireweed and bindweed that ordinary mortals would not be able to locate the trail anymore.  A spur trail between Quadga Lake and PWT which took 5 minutes to hike in May is currently blocked by so many treefalls that it takes 1.5 hours to bushwhack the 1/4 mile!  There may be other sections of the PWT that have been hit by high winds.  This of course, is a safety issue, and it could be a matter of time before someone gets lost on the Pow Wow.  This was a case with two hikers from Duluth on the Kekekabic Trail in October of 2008 when the Forest Service ignored pleas for marking the trail in burnt out sections.  BWAC will continue to hike on the trail and make a record of the conditions.  As of last count in May there were 1,817 treefalls blocking the 32 mile long trail.

Past articles:

Until then "Enjoy the Hike!"

                                               - Martin Kubik, editor

Photo gallery:

  For photo essay of PWT and other trips see our website
www.bwac.smugmug.com
.  For more information about the Coalition to Bring Back the Pow Wow Trail contact Martin Kubik at wtrails2atyahoodotcom.